Delete
The delete button gives you the option to clear or delete your decision logic, as well as delete rows and/or columns.
Using the "Delete" option in the "Decision Table" ribbon
Navigate to the "Cell" panel and click on the Delete button drop-down to be presented with the action you want to do.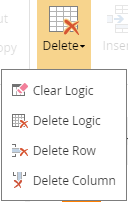 From here you can select to:
Clear Logic: will clear the decision logic of all elements and format.

Delete Logic: will delete the whole decision logic and its page.

Delete Row: will delete the selected row.

Delete Column: will delete the selected column.