Comments
In the modelers, it is possible to comment through comments and replies any model elements.
A model element comments can be accessed in the Detail panel of an element or using the action called Add in the comment section of the Teamwork ribbon.

Comments can also be globally visualized by accessing the Comments side panel unsing the

icon at the top right of the interface.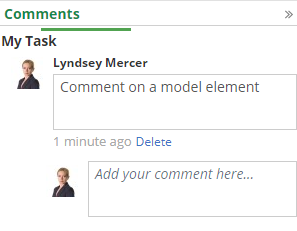 Typing a comment
To reference another user when typing a comment, start a word using the @ key and start typing their name. An auto-completion overlay will appear to select that person name from a list.
When refering a user in your comment or reply, that user will be notified by email when you save the model.