Discovery Accelerator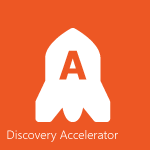 The Discovery Accelerator is a web-based application for non-technical business users, used to organize together business goals, activities, systems, stakeholders and events. Users can start from existing documentation, from brainstorming sessions, or from unearthing user stories. This simple drag and drop application accelerates the discovery of key business entities, the analysis of their interrelationships, and visually exposes any gaps. The models created with the Discovery Accelerator can be exported in various formats for documentation or further business modeling.
With Discovery Accelerator you can:
Create board, text and relation and user stories views of your business.

Define RACI, I/O, Trigger/Result, Achieve/Maintain relations.

Conduct team business discovery exercises.

And much more.