Capability Modeler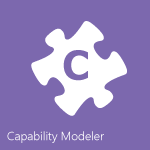 The Capability Modeler is a cloud-based strategic planning and business architecture application for capturing and defining the basic building blocks of your organization. Map business capabilities and their relationships to operations in an easy-to-use environment designed for business users. Align operations to strategic intent using this high-level common definition of what the business does.
The Capability Modeler allows users to:
Create graphical business capability models understandable by both business and IT stakeholders.

Map relationships between capabilities and people, processes, systems and information.

Track impact of strategic and tactical decisions on capability map.

Achieve capability planning and evaluate needs involved in future initiatives.

Assess business capability on maturity and performance metrics.

Categorize strategic, core and support capabilities to help manage in-sourced and out-sourced capabilities.