Case Modeler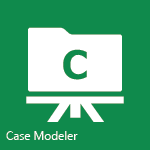 The Case Modeler is a web-based application used to document case-oriented business processes and to drive process improvement efforts for knowledge work. This application is used by both business and IT personnel to develop case models as interactive documentation of existing and desired case-oriented processes. Users can create complete case models that can be easily published as web services in one click. The Case Modeler creates models as per the Case Management Model and Notation (CMMN) standard, ensuring optimal interoperability with other compliant software applications.
The Case Modeler allows users to:
Produce case diagrams based on the CMMN specification

Import and Export CMMN diagrams into several file formats

Model automatable cases

And much more.